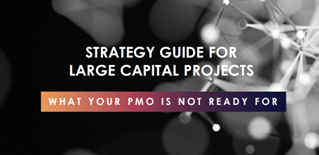 What is a Capital Project?
A Capital Project is a long term, high value endeavor that builds or adds to property, plant or equipment.
Capital Projects are among the highest strategic risk and strategic value of any initiative undertaken by most organizations.
In Business finance language it's a Strategic Project that gives you an expensive capital asset in the form of a facility. Something big enough you can't finance it out of cashflow.
Usually this means spending millions of dollars a month for several years on design, engineering, and construction of that large facility. And the post 2020 changes in commodities, supply chain, and availability of capital have only made it harder.
---
Capital Projects we have worked on:
(Budgets Ranging from $1MM to $9BN – Most programs over $100MM annual)
Business – Office Buildings, labs, research facilities, storage facilities, warehouses.
Clean Manufacturing Plants and Labs – GMP and FDA regulated facilities (Food, Biotech, Pharma, API)
Industrial Manufacturing Plants – Industrial Fab (Steel, pipe, machinery, heavy equipment).
Power – Combined cycle gas turbine, nuclear, nuclear storage, coal fired boiler, combined heat and power, environmental controls, substations, transmission and distribution.
Energy – Wells, gathering facilities, pipelines, compressor stations, environmental controls, refineries and process plants.
Renewables – Solar PV, solar thermal, BESS, wind farms, substations, hydro, geothermal, thermal batteries (molten salt).
Data Centers – Enterprise, commercial, hyperscale, edge, modular
Infrastructure – Roads, bridges, tunnels, rail Lines, rail spurs, rail unloading facilities.
Raw Materials – Mines, mineral refining, raw materials processing, material handling.
---
Services Include:
Large Capital Projects Consulting
Capital Projects Organization, Process & Tools

Building or adapting PMO, facilities, engineering, safety, doc control, finance, subcontracts and procurement disciplines capable of predictable and competitive delivery of large capital projects .

Capital Projects Software selection and implementation.

Helping you find the right fit of project software to manage and control the capital project.

Capital Project Management & Controls

Develop, define, communicate, manage, control, and deliver – predictable scope, schedule, budget, cost, risk, and documentation. Literal facilitation of the project.

Capital Project Contracts structure and negotiation

Construction contracts are a specific legal animal, with considerations when they get over $100MM. Same with buying large expensive bespoke equipment and machinery.

Capital Project PMO & Portfolio organization, process, tools, management.

A capital project is an often temporary stand alone organization with full time staff that needs training, tools, processes, and support to execute the capital project. More than a spreadsheet and a slide deck.

Capital Projects Governance

Keeping executives, finance, and accounting happy while keeping project teams transparent, honest and accountable through standard processes, best practices, checks and balances.

Capital Project Portfolio Management

What do you do when there is more than one big capital project.

Capital Projects Management Training

Teaching your staff how to manage and control the giant projects.

Capital Project Management Coaching

Your people do the work, we advise and keep them out of trouble.

Primavera Software Implementation

Some industries and banks prefer projects ran in Primavera Project Management Software. We can set it up for you, and train your people how to use it.

Primavera Software Consulting

Primavera is very powerful but very complicated. We can support you every step of the way, or run the system for you.

Yes, that sometimes means going as far as cost, resource, and material loaded integrated master CPM schedule portfolios of multiple projects that accurately and precisely forecast weekly people, dollars, units and tons through end of project backlog.
---
Download Our Strategy Guide to Large Capital Projects Below: