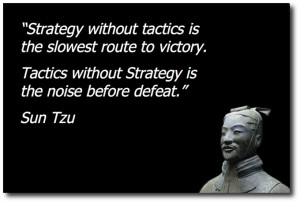 So, I got some highly unanticipated free time, so here's a quick run through some important fundamentals. I don't care what you do, mastery of the fundamentals is the key to being successful, be it sports, work, or strategy.
First the obligatory definitions, I could argue these, but for today we'll go by what's currently popping up on Wikipedia:
Strategy: a high level plan to achieve one or more goals under conditions of uncertainty. (one could debate that strategy not just a synonym for plan, we'll save that for another time).
A tactic is a conceptual action implemented as one or more specific tasks (fair enough).
So formally speaking the text book definitions from military science and business books goes like this, a strategy is a plan that is executed via a variety of tactics. The military goes on to say that grand tactics are large scale tactics, and grand strategy is the political strategy that provides overall direction to military strategy (i.e. terrorists bad, China OK, Canada Harmless).
Gee, that's actually kinda boring. So how does this help you? Where is the salient advantage in these pedantic semantics?
First, the common sense is strategy and tactics are interchangeable words for a solution to the problem. Strategy and tactics have a yin yang relationship in defining each other – bigger long term picture relative to immediate small scale.
Stay with me.
Tactical means winning battle today. Strategy means winning the war. But the battle had a strategy, broken up into tactics utilized by each team. But each team leader had a strategy, that was adapted in execution by a strategic utilization of appropriate tactics for the resistance and challenges faced. Yin / Yang. Once you leave the textbook, the only difference between strategy and tactics is your perspective. Boxers and quarterbacks have strategies for minutes worth of action. Political strategies have tactics that take months to execute.
The difference between strategy and tactics in everyday language is simply to show the short term vs long term perspectives to the task at hand. That would make grand strategy where strategies interact, and grand tactics where different tactics interact.
So what? How does this help you? (finally there)
First, conversationally it is good to simply know the effective semantic difference between strategy and tactics. Hopefully your now there.
Secondly, in order to be truly successful, you need to have good strategy and good tactics. You need to understand the role of each.
Many business have good strategies, but bad tactics and can't make the strategy happen. In Afghanistan, the US military enjoys tactical brilliance and dominance; they almost never lose a battle; but strategically Afghanistan is a decade old strategic quagmire. Winning every battle yet to win the war. Just like we all know well established small businesses that were tactically brilliant, did great work – but were strategically incapable of adapting to change and simply went out of business when the economy crashed.
Conversely, there is a long tradition of brilliant strategies they nobody managed to make happen. The quote that comes to mind is "the best laid plans of mice and men."
The simple truth is strategy and tactics are the same skill, same concept applied at different levels. That simple idea is important because you now know that a perfect strategy cannot succeed without good tactics; and brilliant tactics probably won't deliver strategic results on their own. When your strategies fail for lack of execution, you know there is a disconnect between the strategic and the tactical.
So when you are making your decisions, planning, preparing, and executing your vision for the future, remember that you will have to simultaneously view your struggles from both the strategic and tactical points of view in order to succeed.
And honestly, you probably need to consider the grand tactical and grand strategic views as well to make your long term life get to where you want to go.
So what does that mean?
Strategically you have one year, two year, five year, and probably ten year or longer perspective, goals, and challenges.
Tactically you have a perspective, goals and challenges for this morning, today, this week, this month.
Grand tactically you have to manage the interactions between your work tactical situation, your home and personal tactical situation. You may have multiple projects. Health or fitness goals, school, family, or relationship commitments and challenges that affect your daily tactics of that important business problem your are tactically solving now. Also there are grand tactical problems you can't control – traffic, weather, sickness, accidents. But you have to manage the grand tactical everyday of how do I deal with a getting sick, a fender bender, find a breakfast and still keep my boss happy this morning? At minimum you can think of grand tactical as tactical work life balance.
In terms of grand strategy, well; you need to balance work, career, business and personal strategic goals and resources, and how those strategies interact. Grand strategically you also have to consider the big picture – politics, law, the economy – things you can't control that may have a big effect. There is a good time and a bad time to make investments or purchase real estate – if you're lucky you find the intersection of grand strategic opportunity with personal strategy – i.e. buy a new home after the housing bubble bursts, not before – if you have the choice. Anybody who bought a house in 2008 either didn't have a choice, or failed their due diligence of the housing bubble that was well understood in financial journals a year before the market crashed.
Grand strategically how do I use limited time and money to get what I want in the long term – career, family, home, car, hobby? In business grand strategy how to I balance supply chain costs with new healthcare regulation costs and changes to corporate tax code while attracting quality talent? Those are grand strategy considerations that form the broader picture of sometimes conflicting strategic goals we have – like put in overtime for that promotion but spend more time with family.
And obviously here where we circle around. You need tactical competence on the day to day stuff, grand tactical skill to balance conflicting priorities and limited resources, all while remembering your strategic schwerpunkt …. Not to mention the grand strategy reality of conflicting strategies and the grand strategic environment you are in.
Now, you can ignore these truths and keep muddling through the way you like. Or you can try to organize your mind and efforts in terms of the tactical, grand tactical, strategic, and grand strategic – and see if that perspective helps you improve how you manage priorities and get things done, considering short term opportunities within the context of long term goals and strategic constraints out of your control.
Yes, thinking like a strategist can and probably will give you a headache. I recommend you start by writing things down. As I've learned, if you don't write it down, it never happened.
That's enough for today. Thanks for reading, hope it helps. Let me know.
– Ted Galpin SPP